Press/Media Mentions
Smart Cookies
By Alison Sieloff
Published: November 21, 2007
Maybe you're the type of person who saves money all year, so you don't feel the financial hardship of holiday present-purchasing. Maybe you truly do love giving more than receiving. And perhaps you are not the kind of person who is buried under the crushing dysfunction of procrastination. Good for you - you're perfect. The rest of us need a little motivation to shop for others now that every big-box store is chock full of rude customers and the same generic merch. Fortunately for us, there's the 24th annual Cookie Spree along the Cherokee Antique Row (on Cherokee Street from South Jefferson Avenue to Lemp Avenue). Not only do shoppers in this historic district have the opportunity to avoid the mall and purchase unique pressies, but from 10 a.m. to 5 p.m. on Saturday and Sunday (December 1 and 2), they can rejoice in the fact that businesses here offer up cookies and cider to the masses! How sweet! For more information about the charming district, its shops and its nearby eateries, visit cherokeeantiquerow.net. You perfect people are welcome to enjoy the spree, too. Dec. 1-2, 2007
Link: http://bestof.riverfronttimes.com/2007-11-21/calendar/smart-cookies/
Sentimental Journey
By Stefene Russell
Photos by J.J. Lane
Published:
September-October 2006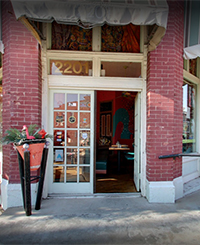 "You don't have to use them for muffins," says Tom Lawless, proprietor of Panorama (1925 Cherokee, 314-772-8007), referring to a 40-cup baking tin that you'd think would come in handy only when catering a kindergartener's birthday party. "We sell a lot of them," he says. One customer bought one to sort her beads. Lawless himself employed one as candleholder for a dinner party; the one in the shop holds antique glass inkwells. Lawless is the master of creative re-use, not only with antiques but also in his folk art, and Panorama offers both. In one corner, there's a "schoolroom" hung with brightly colored maps, wooden school desks and a half-dozen little girl's jewelry dressers ($125). On the other side of the store are Lawless' signature art bottles, similar in spirit to Southern head jugs ($40-$75), with faces made from buttons, old jewelry and beads, as well as Mitch Huett's hand-painted tin trays ($38), recently featured in Southern Living magazine.
That's the beauty of Cherokee Row-you'll find things you didn't know you wanted, but with so many niche shops, you'll also find exactly what you're looking for. The Neon Lady (1926 Cherokee, 314-771-7506, www.neonlady.com) specializes in (surprise) neon signage, though they also carry a huge stock of collectible beer steins. DeMay Ltd. (2018-20 Cherokee, 314-664-4700) is a veritable menagerie of furs of various vintages. They also clean, repair and alter coats and will keep yours in cold storage for a mere $20 a year. China Finders (2125 Cherokee, 314-566-5694, www.chinafinders.com), specializes in discontinued china patterns, from Wedgwood to Ralph Lauren Belle Fleur; prices start at as little as a few dollars and go up depending on the condition and rarity of the piece.
You'll also find fine used books (Hammond's, 1939 Cherokee, 314-776-4737, www.hammondsbooks.com), mid-century furniture (Retro 101/Pixie 9, 2114 Cherokee, 314-776-3739, www.pixie9vintage.com; Snowflake, 3156 Cherokee, open Saturdays 10 a.m.-2 p.m.) and vintage kitchenware (HearthBeats, 2001 Cherokee, 314-771-2600, www.hearthbeats.com). Sally's Floral & Garden Design (2116 Cherokee, 314-776-4949, www.sallysfloral.com) sells posies and antiques, including Depression glass in amber, pink, green and cobalt ($3-$50). They also boast a New Orleans courtyard with a greenhouse and selection of architectural salvage. At Elder's Ltd. (2124 Cherokee Street, 314-772-1436) you'll find Art Deco furniture, china and objets d'art; Lady Jane's (2110 Cherokee, 314-773-3205) carries building remnants, including doors, mantels and stained glass windows. Purple Cow (2010 Cherokee, 314-771-9400) combines 19th century objects with '60s zaniness. For instance, there's a glass case containing a "zippered wallet museum," right next to a similarly displayed "glass cutter museum." Standouts on our visit included a hand-built saltbox dollhouse with a green roof ($145) and a mirrored Art Deco jewelry box ($245).
Cherokee's also notable for its history and food. The Shangri-La Diner (2201 Cherokee Street, 314-772-8308, www.theshangriladiner.com) bills itself as "a little piece of paradise"-with billowy fabric on the ceiling, sparkling bead curtains on the windows and some of the best vegetarian food in St. Louis on the table, that's close to the truth. The Sassafras and Cakery (2111 Cherokee, 314-678-0161), open since January, serves sandwiches, soups and desserts as well as-how's this for truth in advertising?-sassafras tea ($1-$2). If you're a fan of Mexican food, you owe it to yourself to cross Jefferson and explore St. Louis' thriving Latino district. Try Neveria La Vallesana (2801 Cherokee) a tacqueria that serves up killer burritos as well as several tropical flavors of ice cream.
As you're meandering and shopping and eating, be sure to stop and read the History Walk markers with narratives of Cherokee-Lemp neighborhood life between 1840 and 1950. Knowing that China Finders was once a cigar shop, or that there was a German-American shoe shop a few doors down from Jasper's Radio Museum, makes the experience of walking-and shopping-Cherokee Row a little more profound.
The Cherokee Row annual sidewalk sale takes place September 30. For more information about individual shop hours and specialties, go to www.cherokeeantiquerow.net; neighborhood history can be found at www.cherokee-lemp.org.
Link: http://www.stlmagathome.com/media/At-Home/September-October-2006/Sentimental-Journey/

PANORAMA ANTIQUES & WHIMSIES - Part of a 6-block area full of antiques stores called Cherokee Antique Row, this shop offers a mix of vintage country and cottage pieces, memoryware, and clever local folk art. Jennifer picked up one of these painted reclaimed candy trays for her mom's kitchen. 1925 Cherokee St., 314/772-8007. ... In addition to Panorama Antiques & Whimsies (already mentioned), these great shops on Cherokee Antiques Row are worth exploring: The Purple Cow has unusual items at affordable prices, including primitives and architecturals. 2010 Cherokee, 314/771-9400. Hartmann's Treasures offers Roseville pottery and glassware. 1960 Cherokee; 314/773-5039; Riverside Architectural Antiques showcases not-to-be-missed salvaged finds. 1947 Cherokee, 314/722-9177. Donnaland Vintage sells vintage 1940s to 1990s clothing. 2112 Cherokee;, 314/776-3739; www.donnaland.net. Harvest Moon Antiques ' specializes in antiques and holiday collectibles. 1959 Cherokee, 314/664-7444.


- Country Home Magazine, May 2006

Possibly the most famous section of St. Louis antiques dealers is on Cherokee Antique Row. Visit Mitch at Panorama Antiques and Collectibles (314-772-8007, 1925 Cherokee St.) for unusual items, folk art and gifts. Pixie 9 Vintage (314-776-3739, 2114 Cherokee) specializes in vintage clothing and accessories from the 1920s through the 1970s. Lady Jane's (314-773-3205, 2110 Cherokee) houses a selection of furniture and collectibles specializing in hardware, mantles, doors, and wrought iron. The Purple Cow (314-771-9400, 2010 Cherokee) has all things odd and wonderful, including furniture, art glass, lighting fixtures, architectural details, and vintage advertising. Harvest Moon Antiques (314-664-7444, 1959 Cherokee) features furniture, lighting, primitives, jewelry, kitchen, holiday and fantastic religious items. Elder's Ltd. (314-772-1436 or 314-703-4216, 2124 Cherokee) features mahogany, walnut and oak furniture, and specializes in dining room and bedroom suites. They also carry silver, art prints, linen, china, collectibles, glassware and pottery.


- Concierge Preferred Magazine, March 2006

In St. Louis the best area by far to find antiques is in the Cherokee-Lemp historic district. Begin your search on Cherokee Antique Row, where the sheer number of shops will guarantee good finds. ...


- St. Louis Magazine, 2003

Cookies and Curios - The 20th Annual Christmas Cookie Spree adds spice to the holiday shopping season at Cherokee Antique Row (six blocks of antique, collectible and specialty shops along Cherokee St. east of Jefferson), December 6-7, 11 a.m. - 4 p.m.. The event includes carolers, Santa Claus, live music, cookies (of course) and some fascinating shopping in this venerable antique district.


- Where Magazine, 2003
---
Changing the Guard, Beating the Odds: Cherokee Antique Row
by Susan Kleckner
Among the storied locales of the city known as the Gateway to the West is Cherokee Antique Row in St. Louis, Missouri. Situated in the heart of one of St. Louis's older neighborhoods, Tower Grove South, the buildings of this community date mostly from the 1870's to the 1910's. "I just love it when people discover the street and marvel at how beautiful it is," said Jovanka Hammond, a resident of Cherokee Street and owner of Hammond's Books, an out-of-print bookstore in business for almost three decades. "I love talking about this street!"
While committed to the neighborhood and infectiously enthusiastic about it, Hammond is nonetheless a member of a disappearing breed on Cherokee Street. Over the last five years, older, established businesses have started to close shop, and newer businesses have filled the void. In many instances the goods offered at these shops are no different from those available on line, bucking the Internet Age assumption that on-line retailers would best local merchants with their potentially infinite buyer base and low overhead. Not only do many of these newer businesses appear to be sparking a revival of commercial activity on Cherokee Antique Row, they are also showing that the Internet is not the death of the old-fashioned brick-and-mortar merchant.
"Business has skyrocketed since the Internet," said Larry Weitkemper of China Finders. Weitkemper has been in business selling china, crystal, and collectibles for 20 years in the St. Louis area, but only moved into the city to Cherokee Antique Row three years ago. Weitkemper does most of his business on line, shipping items to buyers worldwide, while sourcing his inventory locally in estate sales and other brick-and-mortar ventures.
Cherokee Antique Row has been a commercial fixture in St. Louis for almost a century. "Cherokee Street was similar to Fifth Avenue in New York City at Christmastime in the 1920's and '30's," said one 15-year retailer on Cherokee Street, who wished to remain anonymous. Cherokee Street has been a destination point for antiquers since 1945 when the area's first antiques shop opened in a building that formerly housed a furniture store. Then as now, each following year saw a fresh crop of new antiques stores opening in the neighborhood. Cherokee Antique Row now encompasses six city blocks and is managed by the Cherokee Antique Row Merchants Association.
"eBay had its day, and now people are returning to the store," said Barb Moore, the president of Cherokee Antique Row Merchants Association and proprietor of Riverside Antiques, which has been in business on Cherokee Street since 1978. "There were five or six shops down here in the 1970's. Now there are over thirty." According to Moore, a new brochure listing all the shops in the association is printed every six months. At press time, of 28 antiques retailers listed on the Web site (www.cherokeeantiquerow.net), three were no longer in business, one was retiring within the month, and a third was temporarily closed while awaiting relocation to a renovated space in the neighborhood. "Spaces are taken over pretty quickly," observed Moore.
"First the [antiques] malls came, and they were going to put us out of business; then eBay was going to put us out," said Sherry Elder of Elder's Ltd., "but we're still here." Elder, the second of three generations to run the business over the last 20 years, does not put any of her inventory on line. "eBay is just a business. It's not a passion; it's not love. People want to talk to you about what they have, what their mothers had. Antiquing is a whole experience."
Among the results of such phenomena as on-line antiques retailers and antiques educational television programming, Elder noted, were a more informed and sophisticated clientele, compared to ten years ago, a more urgent requirement that retailers stay on top of their market, and a positive leveling on prices. "The Internet has brought prices down on objects where people thought it was rare, but it wasn't, and it's raised prices on things that actually are rare."
Although not all the Cherokee Antique Row dealers agreed the Internet has turned out to be a paper tiger-Jim May of The Purple Cow Antiques, a 25-year veteran of the district, noted that the Internet had changed how dealers source inventory and required antiques businesses to become leaner and more competitive-most felt that on-line retailing had either not impacted their bottom line or, alternatively, had even helped it. Almost all noted the kind of personal service a brick-and-mortar shop offers that distinguishes them from a strictly on-line retailer; several dealers offered other insights as to why their businesses were not eclipsed by virtual competition.
"There's no variance in prices between an on-line store and me," said Wayne Wright, the owner of City Holidays, a shop opened in October 2006, specializing primarily in new ornaments to celebrate every holiday. "But with me, you can get it right away."
"People complain the Internet has taken away business," said Jovanka Hammond. "It's actually helped business and changed the way we do business. I used to buy an ad in an antiquarian book journal, and it could take a month or two to find a book. Now I can look on line; it's a wonderful tool, if you take advantage of it. I just sold a book to a college professor from out of town who got my information from Borders and who had been looking for an out-of-print book for twenty-five years."
"The Internet hasn't affected business because most people want to see what they're buying, and they don't want to pay shipping," observed the 15-year Cherokee Street retailer who wished to remain anonymous. Meanwhile, she also noted that among the recent changes to the neighborhood, "almost all the properties are being rehabbed in the six-block area."
"Many buildings are purchased by investors for flipping," said Shirley DeMay of DeMay Ltd. Furs and Antiques. "It's the fastest growing property value area in Saint Louis city." DeMay recalled that when she purchased the building for her business six years ago, many of the buildings in the neighborhood were boarded up. "Now when a building is boarded, it means it's being rehabbed. Young people are coming in; older dealers are retiring; and many people are living overhead and selling below. Lots of people are doing Internet sales, and it's helping sales. The streets used to be full of weeds and trash. Now they're full of shrubs."
City Holidays' Wright noted that when he opened, his was the only shop on the block. This is no longer the case. Larry Weitkemper of China Finders concurred. "There are more stores than when I first arrived [three years ago]. Several stores open each year."
In addition to the changing, more youthful faces and means of business on Cherokee Antique Row, a different business philosophy is emerging as well. "Older retailers did it more on a convenience basis," said Donna Knot of Donnaland Vintage Variety. "The new retailers are doing it Monday to Friday, nine to five."
"Business has definitely changed," said Alice Bourzikas of Tomorrow's Heirlooms, "The Jackson Press," a high-end new furniture store. "In the early years, there were many more shops with erratic hours. It's a different phase now, with art galleries and artists moving in." Bourzikas herself is part of the change taking place on Cherokee Antique Row, as she retires following almost 20 years in business in the community.
"The change is for the better," said Barb Moore. "There's a lot of renovation, artists moving in. There's an Internet coffee shop and wine bar now. During the ice storm in December, when so many people lost power, it was a surprise to see how many people came to Cherokee Street."
Cherokee Antique Row will be celebrating its heritage with "Picture the Past," a weekend-long history fair, now in its seventh year, featuring old photos of the community, lectures, and tours the weekend of May 19.
© 2007 by Maine Antique Digest